Social and Solidarity Economy. Beyond the Fringe.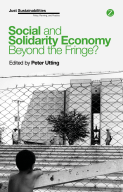 As economic crises, growing inequality and climate change prompt a global debate on the meaning and trajectory of development, increasing attention is focusing on 'social and solidarity economy' as a distinctive approach to sustainable and rights-based development.
While we are beginning to understand what social and solidarity economy is, what it promises and how it differs from 'business as usual', we know far less about whether it can really move beyond its fringe status in many countries and regions. Under what conditions can social and solidarity economy scale up and scale out - that is, expand in terms of the growth of social and solidarity economy organizations and enterprises, or spread horizontally within given territories?
Bringing together leading researchers, blending theoretical and empirical analysis, and drawing on experiences and case studies from multiple countries and regions, this volume addresses these questions. In so doing, it aims to inform a broad constituency of development actors, including scholars, practitioners, activists and policy makers.
Table of Contents
Introduction: The challenge of scaling up social and solidarity economy - Peter Utting
PART I History, theory and strategy
1 Social and solidarity economy in historical perspective - Jean-Louis Laville
2 Prometheus, Trojan horse or Frankenstein? Appraising the social and solidarity economy - John-Justin McMurtry
3 Beyond the business case: a community economies approach to gender, development and social economy - Suzanne Bergeron and Stephen Healy
4 Can social and solidarity economy organisations complement or replace publicly traded companies? - Carina Millstone
5 Scaling the social and solidarity economy: opportunities and limitations of Fairtrade practice - Darryl Reed
6 The potential and limits of farmers' marketing groups as catalysts for rural development - Roldan Muradian
7 Institutionalising the social and solidarity economy in Latin America - José Luis Coraggio
8 Rebuilding solidarity-driven economies after neoliberalism: the role of cooperatives and local developmental states in Latin America - Milford Bateman
9 Enabling the social and solidarity economy through the co-construction of public policy - Marguerite Mendell and Béatrice Alain
PART II Collective action and solidarity in practice
10 Beyond alternative food networks: Italy's solidarity purchase groups and the United States' community economies - Cristina Grasseni, Francesca Forno and Silvana Signori
11 Social and solidarity investment in microfinance - Paul Nelson
12 Balancing growth and solidarity in community currency systems: the case of the Trueque in Argentina - Georgina M. Gómez
13 State and SSE partnerships in social policy and welfare regimes: the case of Uruguay - Cecilia Rossel
14 Extending social protection in health through SSE: possibilities and challenges in West Africa - Bénédicte Fonteneau
15 Enabling agricultural cooperatives in Uganda: the role of public policy and the state - Justine Nannyonjo
16 Embeddedness and the dynamics of growth: the case of the AMUL cooperative, India - Abhijit Ghosh
17 Taking solidarity seriously: analysing Kerala's Kudumbashree as a women's SSE experiment - Ananya Mukherjee-Reed
18 Demonstrating the power of numbers: gender, solidarity and group dynamics in community forestry institutions - Bina Agarwal